COL Nicole Malachowski (USAF, RET.)
First woman Thunderbird pilot, combat veteran, fighter squadron commander, White House Fellow & adviser
Pioneering aviator and first woman Thunderbird pilot
21-year USAF veteran, combat experience in Iraq and Kosovo
Commander of an F-15E fighter squadron
White House Fellow and adviser plus Pentagon roles
Advocate for health care causes
Inspires audiences to succeed beyond what they image
A 21-year veteran of the U.S. Air Force, Col. Nicole Malachowski (USAF, Ret.) wanted to fly military jets from the moment she saw them at her first air show at five years old. She achieved that goal - and then some. A leader, a combat veteran, the first woman pilot on the Thunderbirds Air Demonstration Squadron, an instructor, a White House Fellow, and an inductee into the Women in Aviation International Pioneer Hall of Fame, Nicole's Air Force career exceeded her wildest dreams.
In her speeches, Nicole inspires audiences with lessons from her experience and holds audiences spellbound with an easygoing authenticity of someone who's achieved greatness. She's been a member and leader of exceptional teams. She has faced overwhelming challenges and adversity and has come out on top. When Nicole's distinguished military career was cut short by a neurological tick-borne illness that, at its worst, left her unable to walk safely or speak intelligibly, she overcame those challenges, as well.
CAPTAIN RICHARD PHILLIPS
For five days in April 2009, the world was glued to their TVs as Captain Phillips became the center of an extraordinary international drama when his ship was captured and hijacked by Somali pirates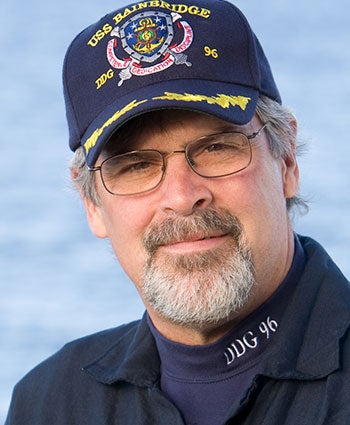 Hero of the High Seas & Real Life Inspiration for the Movie Captain Phillips
Captain of the Maersk Alabama, Hijacked by Somali Pirates
Author, A Captain's Duty: Somali Pirates, Navy SEALs, and Dangerous Days at Sea
While we all aspire to live bravely in the face of life's significant challenges, few of us are tested to live bravely before the guns of hostile Somali pirates who threaten our leadership and authority, our lives, and the lives of our colleagues. Before Somali pirates hijacked his cargo ship and held him captive for five days, making him the center of a riveting international drama which played out live on television, Captain Richard Phillips was as normal as each of us doing our best at work and home. Audiences connect with Captain Phillips on a personal level, become friends with him by the evening's end, and leave lifted by his inspirational message.
ROBERT L. SMITH, PH.D.
"Dr. Bob" is a psychologist, addiction specialist, researcher, teacher, and mentor
Directed the implementation of TeamSTEPPS with 7,500 MetroHealth staff
Developed interdisciplinary teams with multiple health care systems across the country
Conducted resilience education with over 3,000 medical professionals throughout Northeast Ohio
Presented resilience education at national conferences for medical professionals
Dr. Bob is a clinical psychologist and certified addiction specialist. He currently serves as the Director of the Medical Staff Assistance Programs for the MetroHealth System in Cleveland, Ohio. He is also an Assistant Professor of Psychiatry with Case Western Reserve, School of Medicine.
Dr. Bob's passion is to help organizations engage and empower their employees. As a clinical psychologist and addiction specialist, he has studied and addressed the personal and professional stressors that lead to anxiety, depression, substance abuse, etc. He has directed treatment programs; served as a consultant with state and federal agencies and provided corporate educational programs regarding team development, leadership, and resilience. In addition, he has served as a forensic expert in capital cases for state, federal and military courts.
Dr. Bob's interests center around interventions to promote both individual and organizational "well-being." He emphasizes that leadership and staff must share the burden for change. "No one is the single cause of stress and dysfunction and no one person can fix it. My efforts are dedicated to employing the principles of Positive Psychology to foster employee resilience, promote effective leadership, and build high quality interdisciplinary teams."
As a presenter, Dr. Bob strives to engage his audience; to elicit strong emotional reactions; and to leave a lasting positive impact that participants will discuss long after they return home.