Getting Started with TeamSTEPPS
TeamSTEPPS® (Team Strategies and Tools to Enhance Performance and Patient Safety) is designed to help health care professionals improve patient safety and quality through effective communication and teamwork skills.
TeamSTEPPS is an evidence-based set of tools and a training curriculum to successfully integrate communication and teamwork principles into any health care system. It is based on decades of experience and lessons learned from high reliability organizations such as military operations, aviation and nuclear power. The Agency for Healthcare Research and Quality and the U.S. Department of Defense developed TeamSTEPPS in the mid-2000s. From 2011-2017, the American Hospital Association (AHA) managed the National Implementation of TeamSTEPPS. After the federal program ended in September 2017, the AHA committed to continuing their support of the TeamSTEPPS movement and AHA Team Training was officially launched.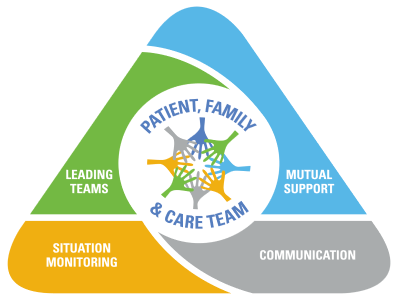 Direct and coordinate, assign tasks, motivate team members, facilitate optimal performance.

Tools You Can Use

Develop common understandings of team environment, apply strategies to monitor team members' performance, maintain a shared mental model.

Tools You Can Use

STEP
I'M SAFE checklist
Cross-monitoring

Effectively exchange information among team members, regardless of how it is communicated.

Tools You Can Use

SBAR
Check-back
Call-out
Handoff

Anticipate other team members' needs through accurate knowledge, shift workload to achieve balance during periods of high workload or stress.

Tools You Can Use

Two-Challenge Rule
DESC Script
CUS
Why TEAMSTEPPS?
The cost of implementing TeamSTEPPS is minimal compared to the savings surrounding outcomes and satisfaction. Many studies have found that teamwork training can lead to a stronger culture of safety through:
TeamSTEPPS Course Offerings
TeamSTEPPS Next Steps
Advanced
This immersive course will help participants looking to spread and sustain their TeamSTEPPS program to create staff and leadership ownership and to refine an action plan. Participants will engage with a community of experts, both faculty and fellow attendees, to solve complex challenges using design-thinking approaches. This course produces TeamSTEPPS Influencers.
Learn More
References:
Jones, K.J., Skinner A.M., High R., & Reiter-Palmon R. (2013). A theory-driven, longitudinal evaluation of the impact of team training on safety culture in 24 hospitals. BMJ Qual Saf, 22(5), 394-404.
Reiss-Brennan, B., Brunisholz, K.D., Dredge, C., Briot, P., Grazier, K., Wilcox, A., Savitz, L., & James, B. (2016). Association of integrated team-based care with health care quality, utilization, and cost. JAMA, 316(8), 826-834.
Capella, J., Smith, S., et al. (2010). Teamwork training improves the clinical care of trauma patients. J Surg Educ, 67(6), 439-443.
Borckardt, J.J., Annan-Coultas, D., Catchpole, K., Wise, H., Mauldin, M., Ragucci, K., Scheurer, D., & Kascak, K. (2020). Preliminary evaluation of the impact of TeamSTEPPS® training on hospital quality indicators. J Interprof Educ Pract 18.
Agency for Healthcare Research and Quality. (2015). New York Hospital Uses AHRQ Resources to Improve Patients' Experience of Care. https://www.ahrq.gov/news/newsroom/case-studies/201514.html
Leonard M., Graham S., Bonacum D. (2004). The human factor: the critical importance of effective teamwork and communication in providing safe care. Qual Saf Health Care, 13 Suppl 1, i85-90.