TeamSTEPPS Fundamentals Course
This single-day training is comprised of the TeamSTEPPS Fundamentals curriculum and includes one day of core material from the two-day TeamSTEPPS Master Training Course. This experiential, consolidated course provides participants with all of the fundamental TeamSTEPPS tools and skills that can be applied in any health care environment. The Fundamentals course is excellent for first-time TeamSTEPPS learners interested in improving teamwork and communication, as well as those with previous TeamSTEPPS training looking to refresh their skills.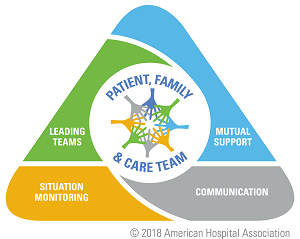 Attending a TeamSTEPPS Fundamentals course has great benefits:
Learn from your peers. This course is taught by clinical colleagues who do this work every day and find value in it. Attend a course onsite at a health system and learn from an interprofessional group of your peers.
Invest one day to learn all the tools you need to be effective. Walk away with a suite of tools and skills to help make your team more efficient and able to provide better care for patients.
Improve value in health care. Build up leadership skills needed to improve quality outcomes as well as patient and staff satisfaction.
Registration
In light of ongoing COVID-19 developments and safety recommendations, we are not holding any in-person courses at this time. Learn more about our virtual course options. Please continue to check back for updates to our in-person course schedule.
The registration fee is $450 per person. This fee includes course materials, meals, continuing education credits and a TeamSTEPPS Fundamentals certificate of completion. There are no requirements to attend this course although it is recommended for participants to come with 2-3 team members if feasible. For teams of 3 or more attending the same course, we offer a team discount of $50 off each person's registration. To receive the team discount or to pay by invoice, please email teamtraining@aha.org before registering.
Substitutions, Cancellations and Refunds
If you registered for a course but can no longer attend, you may send a substitute, by emailing teamtraining@aha.org. If you must cancel entirely, your request for a refund — minus a $250 processing fee — must be made in writing to teamtraining@aha.org no later than 10 business days prior to a course. Refunds will be processed within two weeks of the request. Cancellations made within 10 business days of a course will not be eligible for a refund. In the unlikely event that AHA Team Training cancels a course due to low enrollment, public health concerns, natural disasters or unforeseen weather conditions, commercial or financial circumstances, or any other foreseen or unforeseen event, AHA Team Training will provide a refund for registration costs but is not responsible for non-refundable items such as airfare and hotel costs.
Additional Meeting Details
Who Should Attend
Everyone is welcome to attend the TeamSTEPPS Fundamentals course! Whether you work in clinical or non-clinical environments, anyone in the health care field interested in improving teamwork and communication should attend. The Fundamentals course is designed for both first-time TeamSTEPPS learners and those wanting to refresh their TeamSTEPPS skills.
Who are they?
Registered nurses, advanced practice registered nurses, physicians, physician assistants, technicians, pharmacists, medical or dental residents/interns, pre-professional students and non-clinical professionals including those in academia, quality, administrative and patient safety.
Where do they come from?
Hospitals and health systems (including medical offices and clinics), pre-professional academic institutions, ambulatory care facilities, nursing homes, skilled nursing facilities, acute long-term care hospitals, governmental agencies, military treatment facilities, associations and non-profits.
Course Agenda and Learning Objectives
These are the modules you can expect to experience throughout the course.
TeamSTEPPS Introduction
Team Structure
Communication
Leading Teams
Situation Monitoring
Mutual Support
Implementation Planning
Daily Wrap-Up and Evaluation
This course will cover the following learning objectives:
Identify common communication and teamwork related challenges in health care
Learn the core TeamSTEPPS tools and how they can help to overcome these challenges
Practice the use of the tools in practical scenarios and simulations
Learn and practice how the tools can be effectively implemented in the health care setting
Continuing Education Credit
Participants will earn 5.5 credits by attending the course and completing all CE requirements. CE credit is provided by Duke University Health System Clinical Education & Professional Development. They are accredited by the American Nurses Credentialing Center (ANCC), the Accreditation Council for Pharmacy Education (ACPE) and the Accreditation Council for Continuing Medical Education (ACCME).
Meals
Continental breakfast and lunch will be provided.
Dress Code
Please dress business casual. You may wish to bring a sweater or jacket since the meeting rooms are cold at times.