TeamSTEPPS Next Steps Workshop
Becoming a TeamSTEPPS Master Trainer and implementing within your organization is a great accomplishment. But what happens after you experience resistance or drift? What action do you take when you leadership or staff have no ownership in the plan? Take the next step and become a TeamSTEPPS Influencer by attending this advanced 1.5-day immersive workshop to refresh TeamSTEPPS tools while using design thinking principles to construct and refine your implementation plan.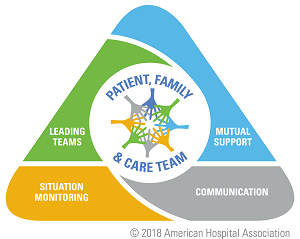 Attending a TeamSTEPPS Next Steps Workshop has great benefits:
Participate in immersive, collaborative learning. Participants will engage with a community of experts, both faculty and fellow attendees, to solve complex challenges.
Create meaningful, practical change at your organization. Walk away with a deeper understanding of the needs of your patients, colleagues and stakeholders while having actionable and practical next steps to strengthen your implementation and sustainment.
Improve value in health care. Foster leadership skills necessary to become influential and execute a project that will provide value at your organization.
Registration
In light of ongoing COVID-19 developments and safety recommendations, we are not holding any in-person courses at this time. Learn more about our virtual course options. Please continue to check back for updates to our in-person course schedule.
The registration fee is $550 per person. This fee includes workshop materials, meals and a TeamSTEPPS Influencer certificate. Attendance in teams of two is required. For teams of 3 or more attending the same workshop, we offer a team discount of $100 off each person's registration. To receive the team discount or to pay by invoice, please email teamtraining@aha.org before registering.
Substitutions, Cancellations and Refunds
If you registered for a workshop but can no longer attend, you may send a substitute, by emailing teamtraining@aha.org. If you must cancel entirely, your request for a refund — minus a $250 processing fee — must be made in writing to teamtraining@aha.org no later than 10 business days prior to a workshop. Refunds will be processed within two weeks of the request. Cancellations made within 10 business days of a workshop will not be eligible for a refund. In the unlikely event that AHA Team Training cancels a course due to low enrollment, public health concerns, natural disasters or unforeseen weather conditions, commercial or financial circumstances, or any other foreseen or unforeseen event, AHA Team Training will provide a refund for registration costs but is not responsible for non-refundable items such as airfare and hotel costs.
Additional Meeting Details
Who Should Attend
This workshop is designed for anyone who has struggled with implementing, spreading, and sustaining TeamSTEPPS tools, fostering ownership of TeamSTEPPS, or making the pitch or value proposition. It is recommend that participants have attended a TeamSTEPPS Master Training Course in the past and/or have been implementing TeamSTEPPS at their organization. Teams of two are required although it's recommended to bring three or more team members and/or have an interprofessional team working towards the same goal.
Who are they?
Registered nurses, advanced practice registered nurses, physicians, physician assistants, technicians, pharmacists, medical or dental residents/interns, pre-professional students and non-clinical professionals including those in academia, quality, administrative and patient safety.
Where do they come from?
Hospitals and health systems (including medical offices and clinics), pre-professional academic institutions, ambulatory care facilities, nursing homes, skilled nursing facilities, acute long-term care hospitals, governmental agencies, military treatment facilities, associations and non-profits.
Course Pre-Work
You will be asked to complete pre-work before the course. You will receive detailed information in your confirmation email. The pre-work allows the faculty the opportunity to get to know more about you and your organization ahead of time, allowing them to create a course more tailored to your organization's needs.
Course Learning Objectives
This course will cover the following learning objectives:
Review key components of the TeamSTEPPS tools
Identify barriers and successes of the implementation of an improvement effort
Analyze the current teamwork climate/culture and share best practices
Evaluate your team's current implementation plan
Construct a new plan or refine the current plan
Formulate an actionable sustainability and spread plan
Continuing Education Credit
Participants will earn 9.5 credits by attending the course and completing all CE requirements. CE credit is provided by Duke University Health System Clinical Education & Professional Development. They are accredited by the American Nurses Credentialing Center (ANCC), the Accreditation Council for Pharmacy Education (ACPE) and the Accreditation Council for Continuing Medical Education (ACCME).
Meals
Continental breakfast and lunch will be provided.
Dress Code
Please dress business casual. You may wish to bring a sweater or jacket since the meeting rooms are cold at times.